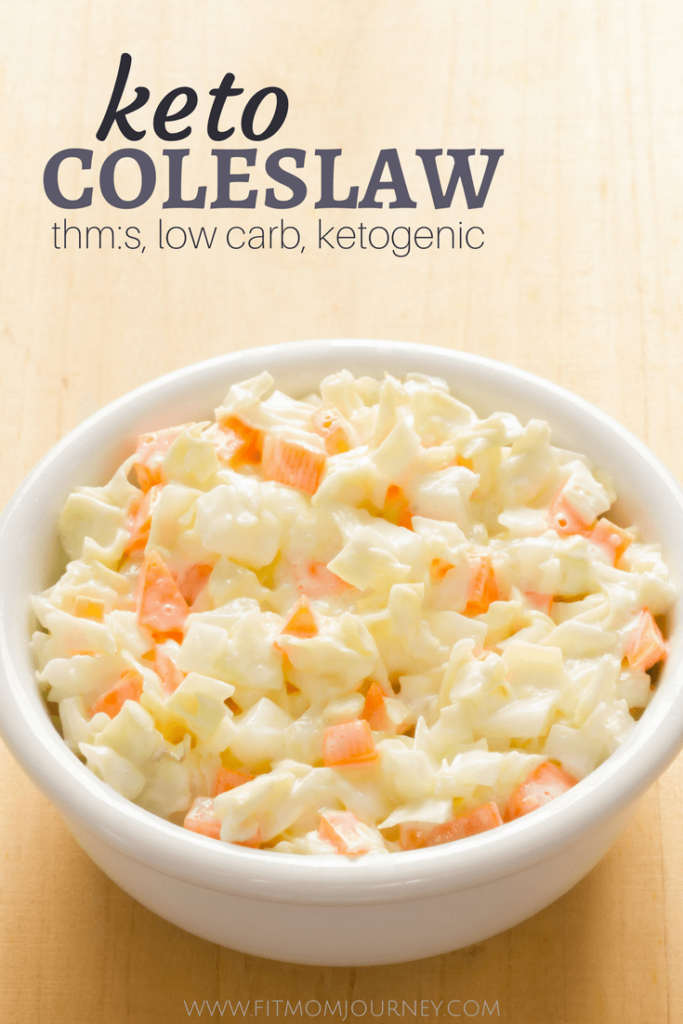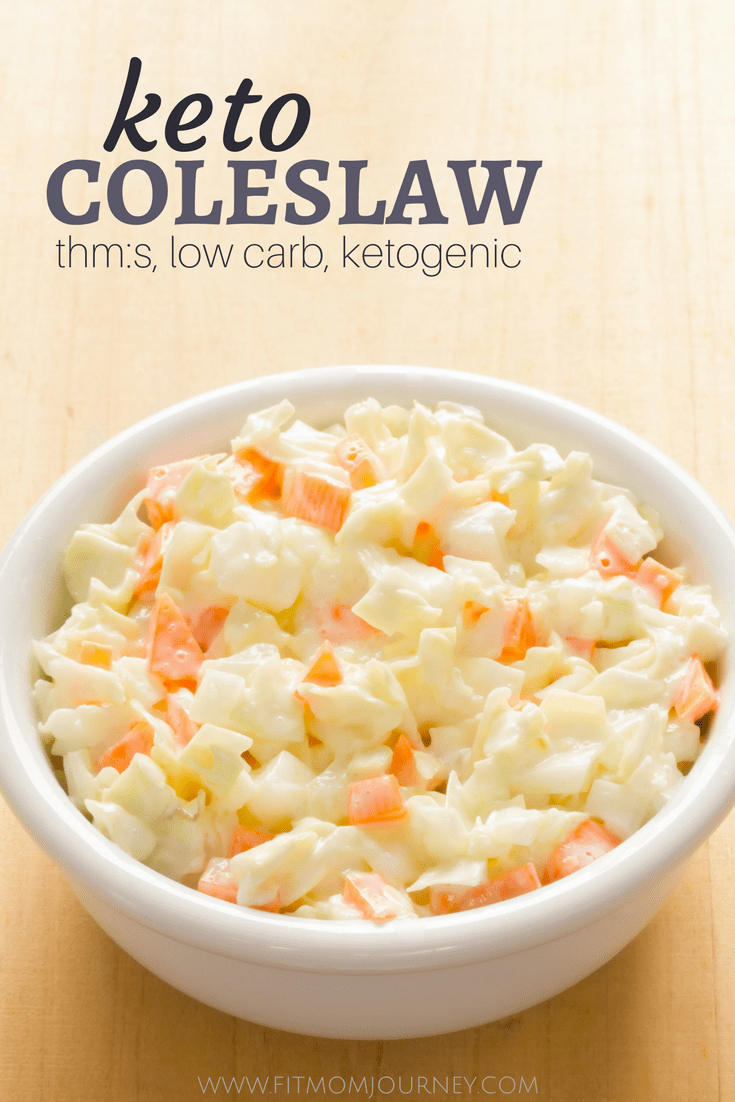 ---
Keto Coleslaw
I grew up HATING coleslaw.
And potato salad.
Basically, anything with mayo and/or vinegar in it I just couldn't do it. My mother however, would eat that stuff all the time and I just never understood how she could like it.
Until I became pregnant that is.
The love for all things vinegar and mayo-ey must have been genetic, becuase as soon as I got pregnant it was like a switched flipped and that was all I craved.
I could literally eat it by the pound.
I also craved other things, like hot wings and ice (I never liked ice in my drinks before) but after I had my daughter all of those cravings went away – except for coleslaw and potato salad.
I am not kidding you I could sit down and eat it right out of the container, eat it on every sandwich and as a side to every meal.
Now that I'm keto, there's nothing saying I CAN'T have coleslaw, but it needs to be prepared with the most healthful ingredients possible.  Thankfully cabbage is pretty low in both carbohydrates and net carbs, making coleslaw a relatively easy side to keto-fy.
New To Keto? Check out these articles to get started:
My Keto Success Story: What 60 Days in Ketosis Did for Me
Keto 101: What is a Ketogenic Diet?
How To Get Rid of Keto Flu
7 Signs You Are In Ketosis
How To Calculate Your Keto Macros
How to Use Exogenous Ketones Correctly
A couple of my suggestions for preparation:
Use High-Quality Mayo: one of the easiest ways to derail your ketogenic diet is by using low-quality fats.  A tablespoon here and there or regular old store mayo will not hurt you, but make a whole batch of coleslaw with regular mayo – and eat a good bit of it – and you won't be doing yourself any favors.  I either make my own mayo, or use Primal Kitchen Mayo.  Thrive Market has the best price on Primal Kitchen mayo, but Amazon will ship it to you in 2 days.
Keep the Carrots to a Minimum – carrots are filled with nutrients, but here I've kept them fairly minimal and used them mainly as a source of color for the coleslaw.  Don't go overboard or you will mess up the macros here.
Use a Stevia Sweetener Replacement – here I've used Swerve, but you could also use Lakanto or Gentle Sweet – even Stevia Glycerite would work!  Unfortunately most coleslaws contain sugar to counterbalance the vinegar, which tastes awesome but adds unnecessary carbs.  So be sure to use your favorite low-carb sweetener!
This coleslaw is great any time of the year, but I find I particularly enjoy it during the summer months, alongside burgers, hot dogs and pulled pork (minus the buns, of course!)  It is very quick to make from scratch, or you could buy pre-shredded coleslaw mix to save time!
Affiliate Links: the following links will take you to some of the tools I used to create this recipe.  When you purchase through my link, I get a small commission, at no cost to you, which helps to support the cost of running this site.  This means more FREE recipes and resources for you.
You May Also Like:
Slow Cooker Ranch Pork Chops
90-Second Cinnabon (Keto, THM:S, Fat Bomb)
Chocolate Chip Peanut Butter Cookie Dough Fat Bombs
InstantPot Sloppy Joes
Fathead Pizza Crust
The Best Keto Starbucks Drinks

Keto Coleslaw
Ingredients
1 Carrot, Grated
1 Head of Cabbage, chopped
½ cup Mayo
1 T Apple Cider Vinegar
1 T Lemon Juice
1 tsp. Dijon Mustard
½ tsp. Celery seed (optional)
1 T. Swerve
Salt and Pepper, to taste
Instructions
Shred coleslaw. Dice into cubes, if desired. Grate the carrot. Set the vegetables aside.
In a medium bowl, mix the mayo, apple cider vinegar, lemon juice, dijon mustard, celery seed, swerve, and salt and pepper. Mix well until Swerve is dissolved.
Pour the dressing over the cabbage and carrots. Toss to coat the salad with dressing.
xoxo,
Gretchen
---
Ready to start Keto? Download Keto Quickstart, the FREE guide that will get you started + has 30 days of meals plans and shopping lists!
---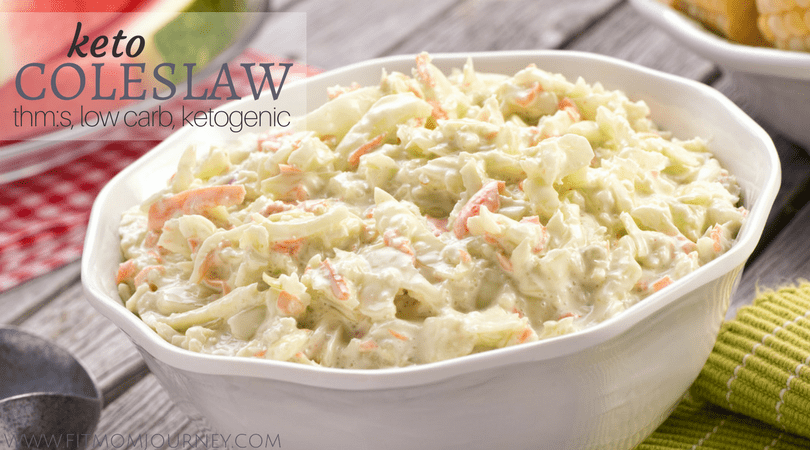 This post may contain affiliate links.  See my disclosures for more information.